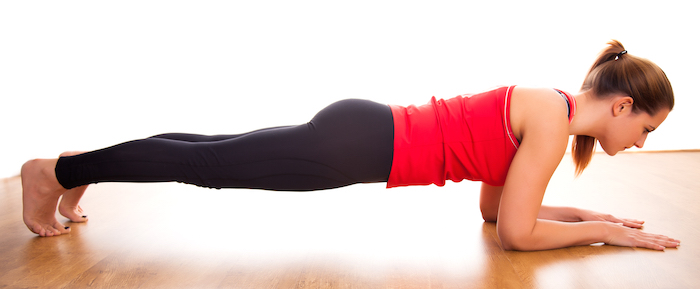 Our bodies are made of a diverse set of muscles, tendons, bones and joints all interconnected to create an efficient machine. The body's core - which includes the abdominal muscles, chest, lower back, hips and pelvis - is the headquarters for most of our movement. The effectiveness of nearly every muscle group traces back to the core.
HOW A WEAK CORE CAUSES PAIN
When the core isn't as strong as it needs to be, the whole machine starts to break down. Your entire body suffers because the other areas aren't getting the support they need. Then the other areas of your body try to compensate which results in pain.
If you're feeling pain or sluggishness, a lack of core muscle strength could be the cause or, on the other end of the spectrum, your core could be overtrained and needs time to recover to provide the support it's designed to give.
FOUR SIGNS YOUR CORE IS YOUR ISSUE
Here are some common symptoms caused by a lack of core strength:
Poor posture: This is one of the first symptoms of a weak or injured core. From slumped shoulders to an inability to stand or sit up straight, a weak core causes bad posture.
Back pain: Another prime indicator is back pain which comes from a lack of strength in the opposing abdominal muscles. Because those muscles aren't providing as much support as they should, the back overworks itself when it comes to lifting, running and other exercise.
Overall weakness: If you have problems lifting heavy amounts or jumping, your core is likely at fault. Those midsection muscles fuel the strength of your limbs, so pain that comes from strenuous activity can often be traced back to the core.
Fatigue: If you feel shortness of breath, or are unable to hold in your stomach without feeling strain or pain, then there are problems with core muscle strength.
GET A STRONGER CORE SO YOU CAN STAY ACTIVE
Keeping your core strong will help you avoid injuries both in the core and in other areas of the body. The best way to increase core strength is through regular exercise including strengthening moves specifically for increasing core strength such as a plank.
Performing a plank and a side plank correctly (shoulders, back and bottom all in a straight line) requires all areas of your core to work together to keep you in position. Regularly doing these and other exercises to strengthen the chest, back, abs and hips will give you the support you need to stay in the game - no matter what game you play!
If your core is overtrained, get adequate rest and hydration between exercise sessions and try to focus on another area of the body or work on cardio to give the core time to recover.