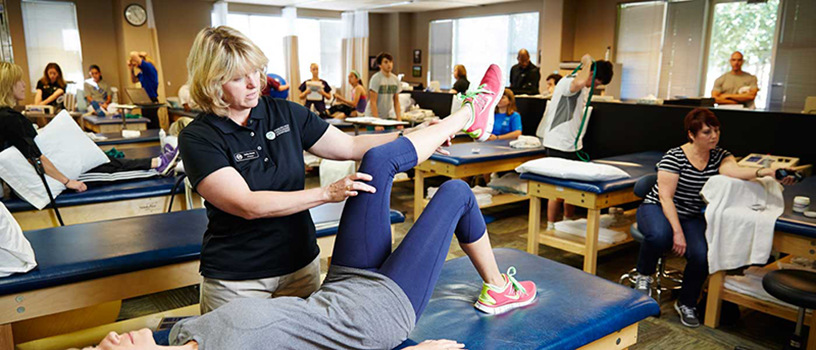 Physical therapists are an essential part of the healthcare continuum. They help individuals improve movement, restore activity, and maintain functioning for life's daily activities. Physical therapy can help people of any age, whether it is intended to get you back on the field after a sport related injury, assist with returning you to your activities of daily living or help manage a medical condition or illness that limits your regular ability to move and function. Physical therapists are recognized as qualified providers of rehabilitation, performance enhancement, and disease prevention with the goals of returning someone to optimal performance, enhancing health, well-being, and quality of life. If you haven't experienced it for yourself, the items listed below will give you an insight as to the benefits of physical therapy and how it can improve the quality of your busy life.
1. Restore motion.
Physical therapists are trained in the science of movement analysis, and getting you up and around is what we do best. At the onset of a musculoskeletal injury, pain and swelling can reduce a body's ability to fire muscles in the normal sequence which can limit your daily or recreational activities. A physical therapist can assess your particular motion impairments, provide the proper tissue or joint mobilization techniques and develop stretching and strengthening exercises to help restore your ability to move properly. The goal is to get you back into your life with as little disruption as possible.
2. Prevent a sports injury and aid recovery.
Many of us are passionate about a particular sport and couldn't imagine what we would do if it wasn't a part of our recreational activities. Physical therapists understand the risks involved with sports participation and the potential for a sport-specific type of injury, for example playing basketball can result in Jumper's Knee. We can design an appropriate recovery program to improve your chances of a safe return to your sport and even provide injury prevention instruction to help you avoid missing game time. Physical therapists are also trained in performance improvement exercises and can help those athletes that are looking to take their sport to the next level.
3. Avoid surgery.
Once you have seen your doctor and begun treatment with a physical therapist, a potential surgery may not be needed. The goals of therapy will be to eliminate pain, help you heal from the injury and get you back to your prior level of function. If it's determined that you need a referral to an orthopedic surgeon and that surgery is required, you may benefit from pre-op physical therapy. By going into a surgery with stronger muscles, in many cases you may recover faster.
4. Neurological rehabilitation.
When a major illness or injury occurs such as a Stroke, Spinal cord or Traumatic Brain injury, physical therapists can help retrain your neurological system to be more efficient after experiencing one of these potentially life changing events. We can help strengthen weakened parts of the body and improve walking and balance. We can improve a patient's independence with activities such as bed mobility, transferring to/from a chair, bathing, dressing and other activities of daily living. The physical therapist can also determine which assistive device is best, such as a wheelchair, walker or cane to keep you progressing throughout the entire healing process. Our goal is to promote independence and safety around the home but also return the patient to as much of their prior level of function as possible.
5. Fall prevention and balance training.
During your physical therapy evaluation you may receive a fall risk assessment. This is as very basic screen but tells the physical therapist a lot about how your balance system is functioning. Simple tasks can become a burden if this system is not as healthy as it should be. If it's determined you are a high risk for falls, your physical therapist will provide exercises that carefully challenge your balance as a way to resume your all of daily life tasks, as safely as possible. They can also help you with exercises to improve coordination and dynamic activity such as stair climbing and walking on uneven surfaces. When the balance problem is caused by a dysfunction in one's vestibular system (structures in your inner ear that provide awareness of your spatial orientation, meaning a sense of whether you are right-side up or upside-down), physical therapists can perform specific manual therapy techniques that can restore proper vestibular functioning and potentially reduce or eliminate symptoms of dizziness or vertigo.
6. Pain management.
Physical therapists understand the mechanics of how your body needs to move efficiently and effectively to tackle all of life's demands. When pain is a result of an injury many patients, such as those with low back pain learn to use motions that compensate for normal movement patterns. Physical therapists can evaluate which structure is at fault, create a series of therapeutic and neuromuscular re-education exercises as well as apply manual therapy techniques to help restore normal pain free motion and correct the mechanical dysfunction that caused the pain. We can also utilize other treatment options such as therapeutic ultrasound, taping or electrical stimulation which can assist in the healing pathway.
7. Managing diabetes, heart and lung conditions.
Physical therapists can help patients with diabetes get active, and stay active. They can assist with basic exercise instruction and help patients understand and manage their blood sugar levels. Physical therapists can also assist with setting exercise goals which can help you stay motivated to promote an active lifestyle. Some patients participate in cardiac rehabilitation programs after a heart attack or heart related procedure. For pulmonary related diagnoses such as COPD, physical therapy can improve quality of life through endurance and strength training, breathing exercises, and energy conservation strategies.
8. Manage arthritis.
As we mature (politically correct way of saying getting older), we may develop arthritis and need a hip, knee or shoulder total joint replacement. Physical therapists are experts in helping patients recover from these invasive procedures and conservatively manage arthritic conditions. Aquatic physical therapy can help reduce arthritic pain while simultaneously getting you stronger. The physical therapist can develop an aquatic exercise program to fit your individual needs with a goal of improving daily activities and delaying a joint replacement surgery.
9. Perform Ergonomic and Postural training.
Most of us spend a portion of our day sitting at a computer desk whether at work, home or in school. Prolonged static positions/postures can lead to movement dysfunction and cause pain, usually in the neck, back and shoulder region. A physical therapist can address muscle imbalances and provide you with the right therapeutic exercise to restore a healthier posture. We can also provide you with education and training as to how to safely perform daily activities such as pushing, pulling, lifting, reaching and carrying to keep your low back in tip top shape for life's more important tasks, like golfing or playing with your grandchildren!
10. Women's Health and other conditions.
Women have other specific health concerns, such as with pregnancy, post-partum care and upper extremity mobility issues related to breast cancer surgery. Fibromyalgia, osteoporosis, lymphedema, bowel and urinary incontinence as well as pelvic health are all diagnoses that a physical therapist can effectively evaluate and treat.
Physical therapy has been helping people get active and stay active for decades. If you have questions about how it may help you, someone you care about, or even your competitor please don't hesitate to contact us at .